Our Seniors kept themselves busy following Seamie's 5K with lots of running, challenges and fun, here's a summary of what they got up to!
August 30th –  Father and son, Conor & Oran Lynch headed to Tara AC's 5K & Family 3K in Co. Meath. Both Lynch's coming home in impressive time, Connor 22:21 in the 5K and Oran completing the 3K in 13:06.
August 31st – Early this Saturday morning, Paul Barnes, Bernie Balfe, Danny Cirdei, and Brian Duff headed to Co. Offaly to run Tullamore Harriers' Quinlan Cup Half Marathon. All four had a super time, Paul 1:36:26, Bernie 1:39:98, Danny 1:43:15 and a new PB of 1:44:38 for Brian.
September 1st –  Our members thoroughly enjoyed Boyne Ac's Connor/Mallon 5K & 3K Family Run. A wonderful display of running and times from our members, adults and juveniles alike. Peter Carolan 23:34, Tracey McCarron 27:07, Amanda McElroy 28:41, Regina McElroy 29:36, Gerard Clinton 34:08 and Deidre McMahon 36:33 with Daniel Cirdei, Jessica McCarron, Dylan McCarron and Jack McCarron representing our juveniles.
September 9th – WOW – The Fantastic Four! Seamie's 5K on Saturday evening didn't stop these guys heading out bright and early the next morning to run the MCI Dundalk Half Marathon. Well done Belinda Rogers, Kelly Connor, Michelle Lynch and Dave Symmons, looks like ye all enjoyed this one.
September 14th –  27 members from Ardee & District AC displayed some fantastic running with lots of new PBs at the Dromiskin 5K. Well done to you All and a special congratulations to our new members who joined us for the first time wearing the Ardee colours. Danny Cirdei 19:23, Jack McCarron 19:24, Paul Barnes 20:16, Leo Farrell 20:34, Derek Gillespie 20:43, Ben Corcoran 20:58, Conor Lynch 21:32, David Tyhuis 21:52, Michelle Lynch 22:37, Roy Crawley 22:53, Frank Meade 24:38, Molly Keenan 25:15, Annemarie Dillon 25:16, Dylan McCarron 26:17, Tracey McCarron 26:34, Aidan Mooney 26:31, Tracey Gillespie 27:03, Joan McQuillan 27:31, Amanda McElroy 27:48, Rebecca McCarron 28:03, Joanne Dillon 28:52, Fiona Duffy 29:34 Alison Hickey 29:51 Deidre McMahon 36:34; Hazel and Lorretto Durrigan 45:11.
September 21st – 12 enthusiastic members headed to the Phoenix Park this morning running the KBC Dublin Half Marathon.
Impressive running and lots of fun from these guys and a special mention to Mairead Larkin who ran her first ever half marathon today.  Well done Everyone – Danny Cirdei 1:31:17, Ronan O'Sullivan 1:50:00, Dave Symmons 1:55:05, Kelly Connor 1:55:06, Michelle Lynch 1:55:17, David Tyhuis 1:55:18, Belinda Rogers 1:55:28, Conor Lynch 1:57:09, Deidre Breen 2:05:13, Deidre McEneaney 2:15:49, Tracey McCarron 2:29:14 and Mairead Larkin 2:29:13.
October 6th and What a glorious day for a run…
Many members took to the roads today, all smiling as the sun shone brightly but the weekend began with Paul Barnes chasing after Storm Lorenzo yesterday at the Galway Bay Half Marathon.
In Darver this morning Bernie Balfe bagged the Silver medal in the Women's 4000m at the Louth Cross Country Championships while Barry Weldon and Conor Lynch gave it their all amongst some tough competition in a very fast Men's 6000m.
Over in Longwood, Michelle Lynch, Belinda Finnegan, Allison Duffy, Danny Cirdei and David Tyhuis had lots of fun supporting each other at the Irish 3/4 Marathon.
And up in Newry, Kelly Connor, Leo Farrell, Peter Carolan, Aidan Mooney, Roy Crawley and Brian Duff paced it well to all finish comfortably down in Dundalk at the Dune Cross Boarder Half Marathon.
Congratulations to all our members out and about, we love hearing what ye get up to.
October 21st – Congratulations to Ronan O'Sullivan who ran the TCS Amsterdam Marathon yesterday in 4:08:03. Well done Ronan, great to see you back in action.
October 28th – Happy Campers today! Congratulations to all our athletes who completed in the Dublin City Marathon yesterday. They were simply wonderful, all with their own goals and personal achievements and all home safely. Well done… ♥️ Danny Cirdei, Michelle Lynch, Belinda Rogers, Bernie Balfe, Ronan O'Sullivan, Shane Carroll, Jim Myles, Dave Symmons, David Tyhuis, Deidre Breen, Nathan Anderson, Tracey McCarron, Deirdre McEneaney, Allison Duffy and Teresa Durnin.
October 29th – Congratulations to our international marathon runner Barry Reid who completed his 22nd Marathon in the beautiful city of Venice, Italy at the weekend. Well done Barry, we look forward to seeing where you pop up next!
November 10th – Well done to Leo Farrell and Roy Crawley who ran the Drumcondrath National School's 10K & 5K yesterday, great running from these two dedicated members.
November 10th – Following our club's fantastic win at Ardee St. Mary's 'Hollywood Comes to Ardee' last night some of our dedicated and enthusiastic members got up bright and early this morning, hopped on the bus joining our Couch 2 5K Group and many more from the Community of Ardee to run the Remembrance Day 5K in the Phoenix Park. Well done to each and every one of you.
November 17th – Fantastic running from our members at the very popular Annagassan 10K RUN yesterday morning. Our athletes thoroughly enjoyed themselves running along part of the most beautiful coastline our wee county has to offer. A race dedicated to the memory of Noel Carroll one of Irelands finest athletes and native of Annagassan.
♥️ Well done to Danny Cirdei, Ben Corcoran, Conor Lynch, Kelly Connor, Kevin Carroll, Brian Duff, Roy Crawley David Tyhuis, Jim Myles, Annemarie Dillon, Aiden Dunne, Peter Carolan, Dave Symmons, Frank Meade, Michael Lundon, Aidan Mooney, Deidre Breen, Michelle Lynch, Belinda Rogers, Regina McElroy, Amanda McElroy, Joan McQuillan, Domhnall Lennon, Lisa Neacy, Joanne Dillon, Bernie Balfe and Ronan O'Sullivan.
November 24th – Down in Co. Monaghan we had fantastic running on a bright winter's morning from Jakupas Ruskys, Kristupas Ruskys, Gabriele Ruskyte and Órlaith Carolan who joined our seniors, Alice Turley, Pauline Breslin and Aurimas Ruskys at the McMahon SuperValu Castleblayney 5K. All coming away with smiles and medals.
November 24th – And on this day also, we congratulate a man who continues to inspire us all. Yesterday, Leo Farrell ran the Dublin 10K MoRun coming an impressive 32nd out of 629 competitors. Well done Leo and well done to all our members competing today.
November 30th – Well done to Kelly Connor, Danny Cirdei and David Tyhuis obtaining a new PB who thoroughly enjoyed the winter morning views of Howth Head and Dublin Bay at the Clontarf Half Marathon last Saturday.
December 1st – Members of all ages from our club popped out to Reaghstown to run the ever popular annual Wild Goose Chase, some running the 10k and some the 5k. What a fun day for the club and fantastic running from everyone.
Our 10k runners were Shane Carroll, Leo Farrell, Conor Lynch, Michelle Lynch, Brian Duff, Danny Cirdei, Amanda McElroy, Regina McElroy, Peter Carolan, David Tyhuis, Deidre Breen and Gary Dunne.
Our 5k runners were Abbie Sheridan, 2nd female overall, Jack McCarron, Dylan McCarron, Rebecca McCarron, Jessica McCarron, Samantha McCarron, Tracey McCarron, Roy Crawley, Oran Lynch, Daniel Cirdei, Tara McGuinness, Richie McGuinness, Trudi McGuinness, Aidan Mooney, Elaine Kearney, Sarah Duff, Harry Breen, Darragh Osborn, Pauline Breslin, Ava McNally, Karen Taaffe, Orlaith Carolan, Aoibheann Carolan and Alice Turley.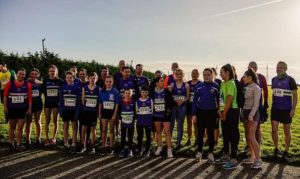 December 15th – Getting into the Christmas spirit and despite this cold weather some of our members headed to Drogheda for a fun run today. Well done to Ben Corcoran, Órlaith Carolan, Peter Carolan, Pauline Breslin, Deidre McMahon, Kate Powell, Lisa Neacy, Alice Turley and Regina McElroy who ran the Drogheda & District AC Christmas 5k.