The 1st Juvenile event of 2020.
It might have been cold but it was dry and sunny as our juveniles competed at Blackrock Athletic Club's Cross Country Meeting today in Haggardstown. Always a friendly and well organised event especially enjoyed by our club.
For the U9 500m Boys' race we had Alfie O'Sullivan who took a nasty fall early in the race but jumped right back up bravely running to the end. He was joined by our U8s Frank Sands coming 10th over all, Sean McCormack and newcomer Aodhan Kellett just missing out on a team medal.
Our U11 Boys team of TomJoe McCormack, Max O'Sullivan, Alex Callan and newcomers Oisin Kellett and Max Sweeney were fantastic. They won the 1st place team medal with double success for Alex taking home a 5th place medal.
Three young ladies ran the U13 1500m Girls race with newcomer EllenRose Sweeney showing exceptional promise thoroughly enjoying herself with team mates Molly Keenan & Emma Boyle, all 3 finishing with a smile.
For the U13 1500m Boys race we had Arthur Sands and Evan Waters. Arthur got off to a slow start but gradually made is way back up to come 9th overall with newcomer Evan making a great effort for his first ever competitive race.
In the U15 2000m Boys' race we had Jack McCarron and Charlie Sands. Jack ran a steady race coming 12th in a tough field and Charlie, running out of age had an exceptional sprint finish moving up into 14th over all.
Finishing the day on a high is the fantastic Abbie Sheridan who won the U19 Ladies race. Exceptional running from Abbie as always.
Congratulations to all our juveniles who competed today and a big welcome and well done to our newcomers.
U9 Boys – Aodhan, Frank, Alfie & Sean.
U11 Boys – TomJoe, Max, Alex, Oisin & Max (1st place team medal winners)  /  Newcomers Max & Oisin (receiving their 1st ever athletic medal).
U13 Girls – EllenRose, Molly & Emma.
.
U13 Boys – Arthur & Evan (absent from picture).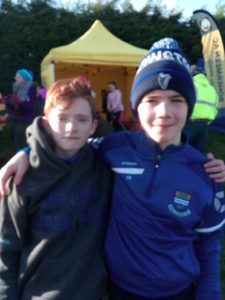 U15 Boys – Jack & Charlie.
Abbie Sheridan – U19 Ladies Winner.