Some of our members hit the road putting a spring into their step for the last month of this very wet and cold 2018 Spring….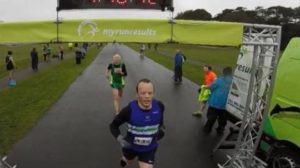 April 2nd – Well done to Barry Reid who won his own battle at the Battle of Clontarf 10mile in Dublin on Easter Monday earning a new personal best of 1:10:41.
Twenty days later on April 22nd and joined by Domhnall Lennon, these two 'night owls' finished with smiles at Dublin's KBC 10K Night Run in Sandymount [Barry 43mins / Domhnall, a pb: 48:20].  Great running lads.
And to finish out the month, on April 28th Barry obtained a new PB of 3:38 competing in his 14th Marathon to date at the Great Stirling Run in Scotland.  Well done Barry, a sterling job…
April 8th – Congratulations to husband & wife duo Ronan O'Sullivan & Bernie Balfe, escaping our wet weather they travelled to the Netherlands and completed the Rotterdam Marathon.  Afterwards a tired but jubilant Bernie had this to say…
"Thanks so much for all the lovely words of support for our run today.  Rotterdam is beautiful and the people are equally lovely.  I won't forget acts of kindness such as a teenager reversing the direction of a metro escalator so I wouldn't have to walk down steps afterwards
❤.  I feel very thankful to have finished full stop 
☘ as I saw others around me less fortunate
????.  The heat & humidity were too much for our poor Irish bodies.  I finished in 3:47:54 and Ronan in 3:39:56 so guess I'll just need to sign up for another one to get my PB 
???? until then 
"
The sun has come out and the countryside is finally turning green…… and still they run on:
22nd April – Congratulations again to Paul Barns who ran a fantastic Connemarathon in Connemara and earned himself a PB of 3:27:57.  Paul trained hard for this one having this to say at the end.
"I came, I saw…..I conquered! Feeling a tad emotional right now.  I set out 6 months ago to avenge a disastrous Dublin Marathon, quit the booze, lay off the sweet stuff and trained like never before.  I set myself a target of running a personal best on one of, if not the most challenging marathons in the country, so to come home with a time of 3:27:57 has made my dreams come true.  I'd like to thank everyone for their very kind best wishes the last few days, it really helped me through today and a huge thanks to all my training partners over the last few months for encouraging and motivating me when I felt like throwing in the towel at times.  Now I think it's time to enjoy the fruits of the labour….."
Well done Paul, we're delighted for you.
Paul as he crosses the finish line…. 
 25th April – With a spring in their step six of our members competed in the DkIT Dundalk 10K and it was all smiles at the finish.  Well done everyone.  [Tracey McCarron 57:10, Liam Smith 47:51, Peter Carolan 49:27, Ronan O'Sullivan 42:17, Bernie Balfe 45:25 & Domhnall Lennon pb 47:53].
What started as a very wet month has finished with sunshine, flowers and smiles all round.  Visit us next month to see how this lot and more are getting on………