DOUBLE GOLD AT THIS YEAR'S Cross Country Championships – The Louth Cross Country Championships, all ages, were held over 2 days.  Our juveniles and seniors alike displayed some wonderful performances, reaching personal goals and some coming away with medals.  In particular, it has been an exceptionally successful season for juvenile Abbie Sheridan who took home 2 Gold medals in the Girls U17 and U18 events…
Day 1 – Girls U18 Champion and Day 2 – Girls U17 Champion – Abbie Sheridan
Day 1 – October 7th – The Louth Novice and Juvenile (Even Ages) Championships were held in Louth's GAA Centre of Excellence in Darver.
A small group of athletes from Ardee & District AC braved a bitter cold morning to compete. The women's novice 3000m race was up first with Tracey McCarron and Michelle Lynch representing the club, while Tracey is no stranger to this competition it was Michelle's first attempt at cross country.  Next was the men's novice 6000m race which saw seasoned athletes Leo Farrell and Liam Smith show us how it's done.  The juveniles began promptly at 12noon and competing on the day were Jessica McCarron and Daniel Cirdei in the U10s 800m, Gabrielle Ruskyte, newcomer Treasa Sherlock, Dylan McCarron and Charlie Sands in the U12 2000m, Hallie Sands and Jack McCarron in the U14 3000m and Rebecca McCarron in the U16 4000m.  All ran impressively reaching personal goals and finishing the day with the silver was Abbie Sheridan in the U18 4000m.  Well done to all our athletes and thanks to St. Peter's AC for a well organised event.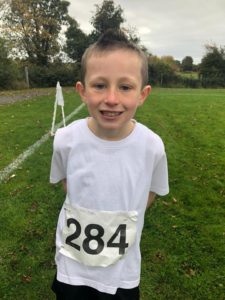 Day 2 – October 14th – The Louth Intermediate and Juvenile (Uneven Age) Cross Country Championships were a fantastic success on an exceptionally warm and sunny autumn morning in the Dundalk Institute of Technology.
Ardee & District AC saw some fantastic running from their athletes, reaching personal goals and some coming away with medals. Up first and merging these categories in one race were the U17, U19 & Ladies 4000m and to tremendous applause saw Ardee's Abbie Sheridan come home first overall in the field taking gold in the U17s and claiming her second Gold medal in Athletic Louth's Cross County Championships. Following closely behind were two of our newcomers, senior athletes Michelle Lynch and Yvonne Callan who both ran exceptionally well thoroughly enjoying this new experience. Next up for the club were four dynamic boys, Oran Lynch, Alex Callan, Daniel Cirdei and Tom Joe McCormack in the U9 500m. All four ran exceptional races coming home to take 4 of the top 10 medal positions with Oran taking the Silver. Our U11s took to the field next running 1500m and running up an age group saw Jessica McCarron put in an impressive performance while her brother Dylan McCarron and Arthur Sands were equally impressive coming home in the top ten Boys U11 1500m. Jack McCarron and Charlie Sands took to the field next in the U13 2500m which saw Jack come home in 8th position followed closely behind by Charlie running up an age and finishing with a smile. Last for the club on the day were Rebecca McCarron and Hallie Sands in the U15 3500m both putting in a steady performance for this challenging distance. Well done to everyone who competed, another successful Athletic Louth Championship day.