September 22nd – STAR OF THE SEA AC'S ANNUAL CROSS COUNTRY MEETING – A massive well done to our u10 Team of Oran Lynch, Alex Callan, Daniel Cirdei and Max O'Sullivan who won 1st place at the Star of the Sea AC's Annual Cross Country Meeting today and to Oran and Alex who also came away with individual medals having come 5th and 6th respectively in the top 6 medal positions. And congratulations also to u9 Alfie O'Sullivan who was fantastic in his first official cross country race. Well done boys.
October 6th – LOUTH 'EVEN AGE' CROSS COUNTRY CHAMPIONSHIPS – The Cross Country season is back and what a glorious day we had at the Louth Cross Country Championships in Darver today. 15 hardy Juveniles took part, some running in their age group and some running up an age but all were fantastic. First up were our U8 Boys, Alfie O'Sullivan, Frank Sands & Sean McCormack, all coming away with a medal. Tess Anderson was our sole representative in the U10 girls who gave it her all in this very fast 800m race. She was soon followed by our U10 boys, Oran Lynch, Owen Trainer, Jokubas Ruskys, Daniel Cirdei, Max O'Sullivan and Kristupas Ruskys. Oran Lynch took home the Bronze and because of the massive effort from these boys, all finishing in the top 15 they also won the Silver as a Team. Jessica McCarron was equally impressive in the Girls U12 2000m as was Emma Boyle competing in her 1st ever Cross Country competition. Arthur Sands and Dylan McCarron were on fire too both finishing in the top ten in the U12 boys 2000m as were Jack McCarron & Charlie Sands also finishing in the top 10 in the U14 boys 3000m. Finishing the day for our club were newcomer Jennifer Trainer and Abbie Sheridan with Abbie managing to bag the Bronze in the U18 Girls 4000m. Well done to all our athletes competing today, we are so proud of them.
October 13th – LOUTH 'UNEVEN AGE' CROSS COUNTRY CHAMPIONSHIPS – Louth Cross Country Championships today and it was the unevan age competition this weekend. 14 fantastic juveniles braved the rain and muck thoroughly enjoying their achievements. For the U9 600m we had TomJoe McCormack and twins Kristupas & Jokubas Ruskys, all coming away with a medal. For the U11 1500m we had newcomer Emma Boyle, Jessica McCarron, Daniel Cirdei, Alex Callan and Oran Lynch. In the U13 2500m we had Molly Keenan, Gabrielle Ruskyte, Dylan McCarron and bothers, Charlie & Arthur Sands and finishing the day for our club was Jack McCarron in the U15 Boys 3500m. Well done to all our juveniles, they displayed some fantastic running, with some competing up an age and all managing to stay on their feet despite the very mucky conditions.
October 26th – Leinster Championships 'Even Ages' – Congratulations to Jessica and Jack McCarron who competed at the Leinster Even Age Cross Country Championships in Co. Kilkenny this morning.
November 9th – Leinster 'Uneven Age' Championships – Jack and Jesscia McCarron, Gabrielle Ruskyte, and twins Jokupas & Kristupas Ruskys travelled to Ferbane, Co. Offlay to compete in the Leinster Cross Country Championships. A fantastic experience and wonderful effort from these young athletes, well done to you all. 
November 24th – National CC Championships – A massive congratulations to Jessica McCarron who represented Louth at the National Cross Country Championships this morning in Abbotstown, Co. Dublin. Well done to Jessica, what an honour and privilege to represent her county at this level.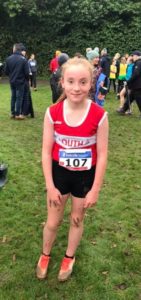 November 24th – In neighbouring Co. Meath Oran Lynch, Alex Callan, Caoimhe Carolan and Aoibheann Carolan took part in Cushinstown AC's Open Indoor Competition. Congratulations to all four who competed well and thoroughly enjoyed this popular annual indoor event with Aoibheann Carolan taking home the gold in the u17 60m.
December 16th – A special congratulations to this determined young man, Jack McCarron who proudly represented his club and county today at the National Cross Country Championships in Dunboyne. Well done Jack.